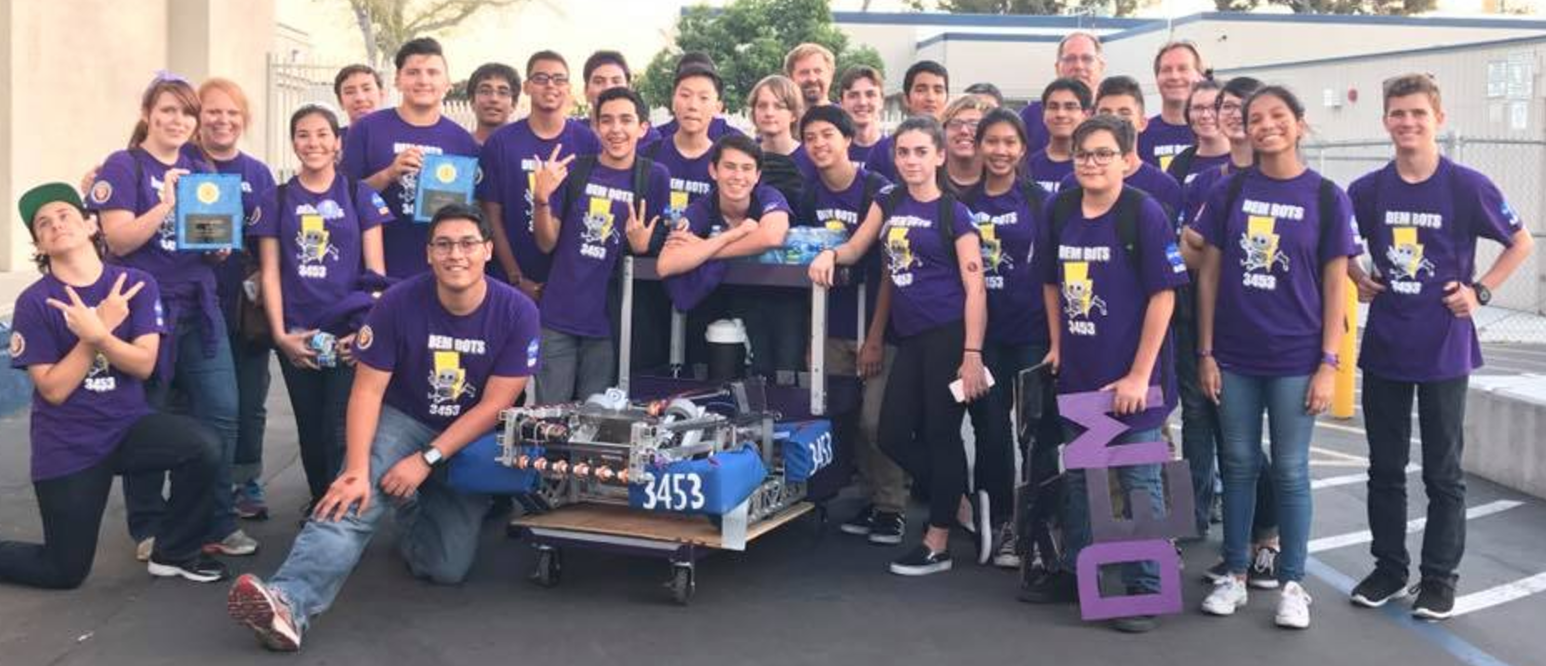 FIRST Robotics Team
The FIRST (For Inspiration and Recognition of Science andTechnology) Robotics Team is a varsity Sport for the Mind(TM), FRC combines the excitement of sport with the rigors of science and technology. Under strict rules, limited resources, and time limits, teams of 25 students or more are challenged to raise funds, design a team "brand," hone teamwork skills, and build and program robots to perform prescribed tasks against a field of competitors. It's as close to "real-world engineering" as a student can get.Volunteer professional mentors lend their time and talents to guide each team.Students get to:
*Learn from professional engineers
*Build and compete with a robot of their own design
*Learn and use sophisticated software and hardware
*Compete and cooperate in alliances and tournaments
*Earn a place in the World Championship
*Qualify for over $20 million in college scholarships
FIRST's Mission Statement - "Our mission is to inspire young people to be science and technology leaders, by engaging them in exciting mentor-based programs that build science, engineering and technology skills,that inspire innovation, and that foster well-rounded life capabilities including self-confidence, communication, and leadership."
Information provided by the FIRST website. For more information, please visit their website at http://www.usfirst.org/

---
About our Varsity Robotics Team - FIRST FRC Team #3453 DEMBOTS
TPS Robotics isbeginning its fourth season in FRC. In its first season, the DEM BOTS won twoawards, the Rookie All-star Award and the Highest Seeded Rookie Team Award, andqualified to compete in the 2011 World Championship in St. Louis. During itssecond season, the team attended a regional tournament in San Diego and asecond in Las Vegas, where they qualified as a quarter-finalists. That year, the DEM BOTS attended the 2012 World Championship and placed 38th out of the100 teams in our division. Last year, the team attended regional tournaments inSan Diego and the Inland Empire and this year they are gearing up for the LosAngeles regional tournament in Long Beach.
Advisors:
Dr.Eric Rasmussen
Email: erasmussen@temeculaprep.com
Mr.Wing Choi
Email: wchoi@temeculaprep.com

---