---
For full details on the following information, please refer to your parent email from 9/23:
9/28:
- Last day of the Robotics "Love" Reusable Bag Products Fundraiser.
- Sophomore Parent/Student Night at 6:30 p.m. in the MPR.
- PATS Jog-a-Thon pledge forms and donations must be turned in today in order for students to be eligible for prizes. Reminder that all checks should be made out to "TPS PATS".
9/29:
Minimum Day Schedule
Kindergarten dismissal...... Read more
Quick Facts
Year Founded: 2000 - Celebrated 15 years of operation on 9/5/15
Public (Free-No Tuition), Charter School; Non-Profit 501(c)3
Grades Offered: K-12
Enrollment: 1050
Waiting List (Avg): 1800+
API Score (2013, K-12 Composite): 879
California Distinguished School
Earned 6 year, K-12 WASC Accreditation
US News & World Report - "America's Best High Schools"
Over 90% of students, who apply, are accepted into a College or University of their choice.
CIF Championship Sports Teams
Temecula Preparatory School was awarded a Silver Medal in U.S. News & World Report's Best High School rankings for 2015 & 2016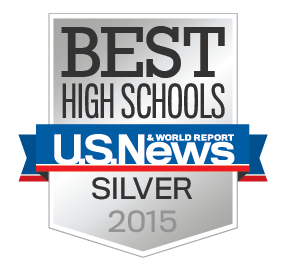 Classical Charter School
Temecula Preparatory School (TPS) was founded in September 2000. It is a California, public (tuition-free), non-profit, charter school which offers classes for Kindergarten - 12th grade. Its curriculum is "Virtue Centric" and based upon the four classical virtues articulated by Plato: Justice, Prudence, Temperance, and Fortitude. TPS utilizes the classical model of education which inspires students "how to think" versus "what to think." The classical model is based on the Trivium which has three (3) stages: Grammar, Logic, and Rhetoric. These stages build upon one another in order to fully "train the mind."