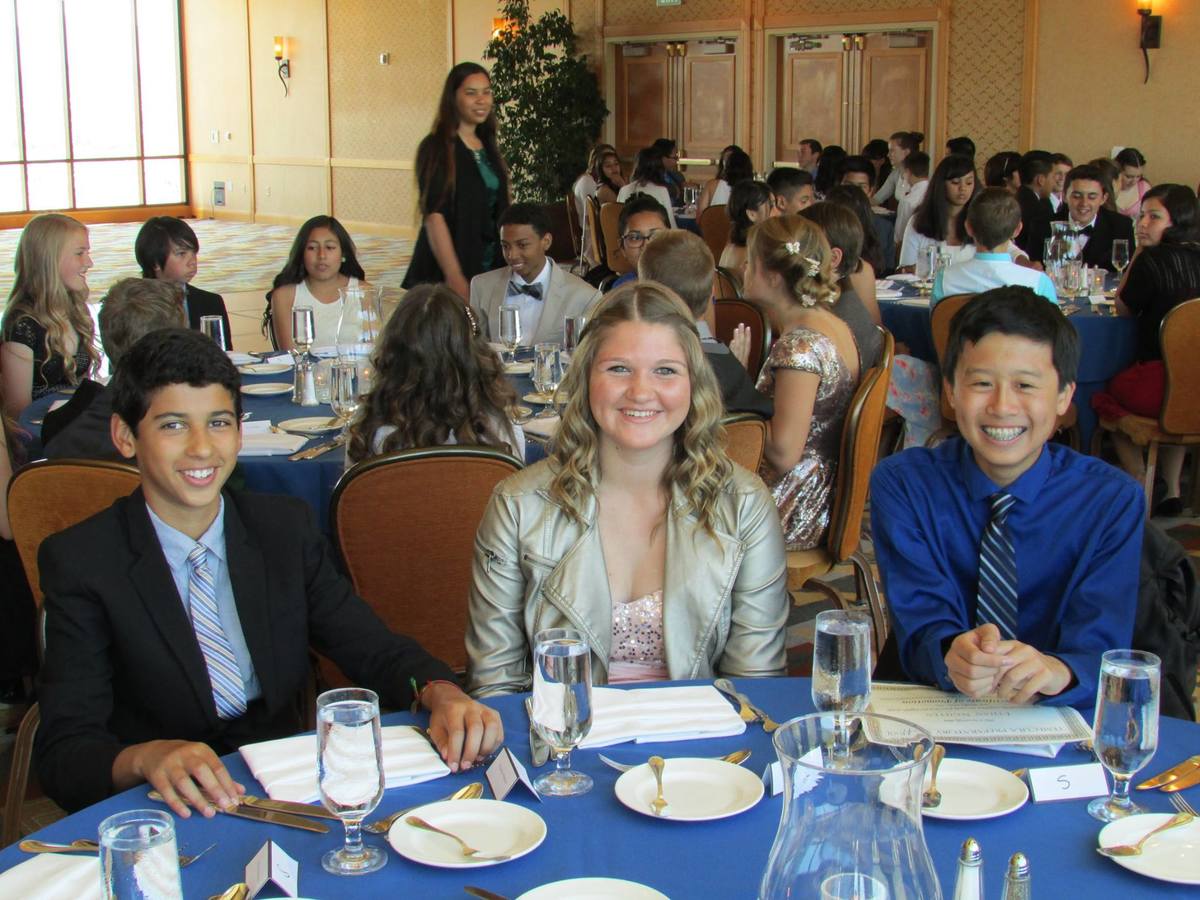 ---
About 8th Grade
Eighth grade completes the historical rotation for the second time in our students' career ending with a critical study of Modernity (1860-current). In addition, the emphasis on virtue culminates in eighth grade with cotillion. Finally, we conclude eighth grade with a promotion ceremony to celebrate all that our students have done in preparation for high school and becoming leaders for the rest of our student body.

---
Bell Schedule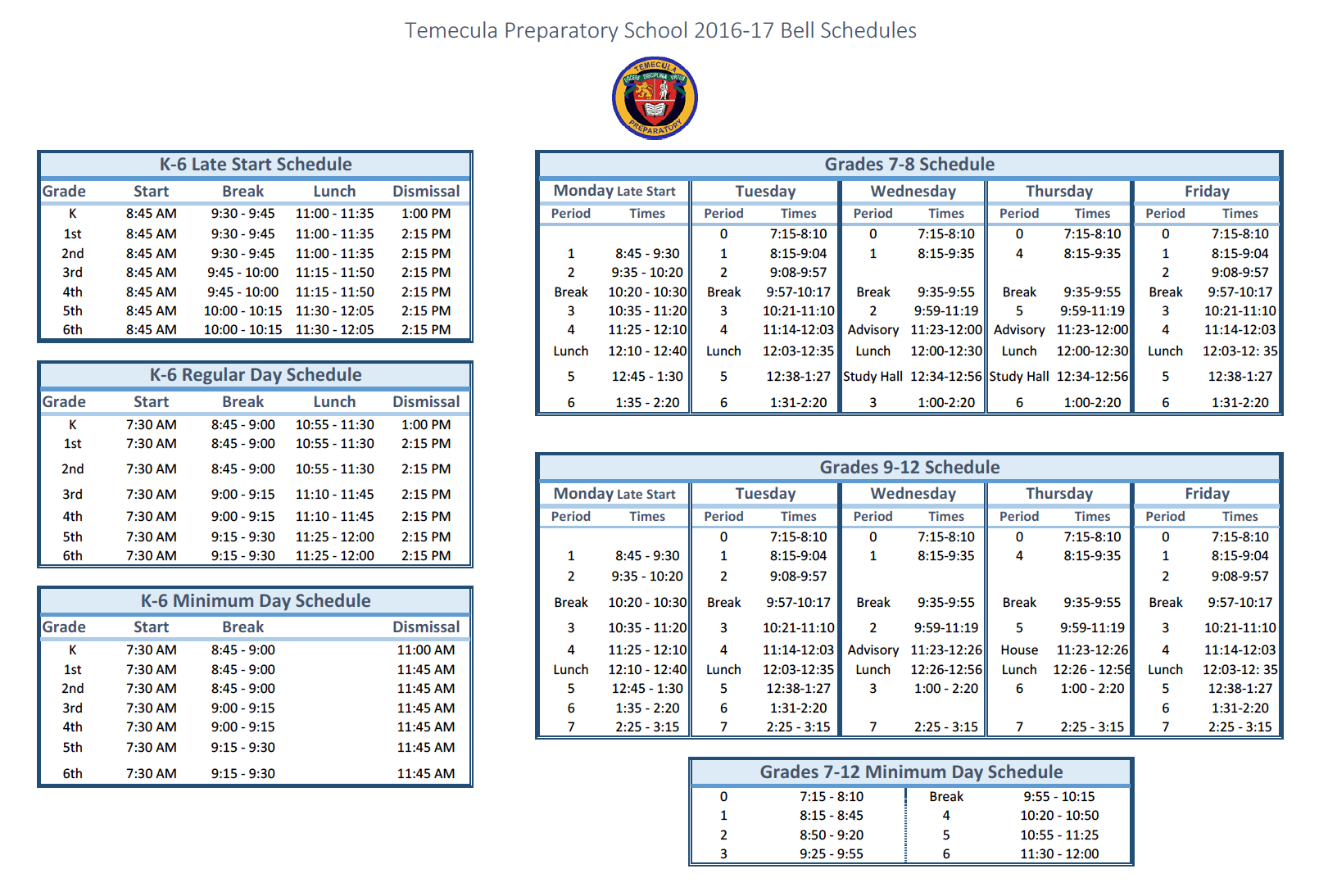 ---
Associated Student Body (ASB) Program
Temecula Preparatory School believes that it is important to foster a school that is safe, clean, and orderly to nurture learning. Additionally we believe that our school should be characterized by trust, professionalism, and high expectations for all students, as well as a focus on continuous school improvement.
In order to ensure that we are fostering learning in this way and providing an opportunity for our students to meet high expectations, we have placed great importance on our ASB program which is led by three (3) separately elected student councils. This fosters the example of peer leadership early on in our students' lives which is critical to our overall vision of building a heritage of leaders in our community and society which will promote virtue, wisdom and knowledge.
Student Councils are the most important constituency in the school is the one we have been created to serve, the students. Our student's needs for an excellent education drive our vision and mission. Part of providing an excellent education is developing a strong student culture where students are encouraged to lead in the development of school policies, activities, and events.
To facilitate the desire for this growth of student leaders, TPS has created a strong and active "Student Council."
There are three separate "Student Councils." The first serves grades 1-6; the second serve grades 7-8; the third serves grades 9-12. Each of these councils is filled by students who have been elected from the overall student body by their peers.
These three bodies provide students with a venue for their voices to be heard and to help gauge the needs of the student body as a whole. In addition, these councils plan activities and events that support student culture needs and desires. Among the events that the council's have planned are: school dances, spirit weeks, field days, pep-rallies, career-days, community outreaches, and a culture fair.
These councils are instrumental in the overall vision for our school where virtue matters and is lived out, but more importantly, where students witness the impact of virtue on other people and as a result, they are inspired to pursue virtuous leadership after they leave our classrooms.

---
Athletic Program (6th-8th)
TPS offers athletic opportunities to our sixth through twelfth grade students. The following sports are offered to our sixth through eighth grade students:

Fall
Winter
Spring
Spring
Basketball (Boys & Girls)
Soccer (Boys & Girls)

If you wish to contact our 6th - 8th grade Athletic Director, please email Mr. Jason Karg at jkarg@temeculaprep.com

---
8th Grade Promotion Ceremony
At the end of each school year Temecula Preparatory School's 8th Grade students have the opportunity to participate in two special events, the 8th Grade Cotillion and the 8th Grade Promotion Ceremony.
The Promotion Ceremony has been incorporated into our school culture as a means by which we can celebrate all of the hard work our students have done in the grammar and logic stages of their classical education. Students look forward to this event where they are awarded for their academic achievement and show of virtue.
The ceremony is also a 'rite of passage' as students prepare to enter their high school years at Temecula Prep where they are expected to carry the mantle of student leadership for the rest of the student body and their younger brothers and sisters of TPS.
---
Field Study Trip
8th Grade - East Coast Trip
The optional 8th grade East Coast Trip is a once-in-a-lifetime unforgettable experience for our students! The trip is one of the most historically rich endeavors that our students take part in at Temecula Preparatory School. Students are given the opportunity to tour many of the most historically rich areas on the East Coast. This optional trip is an incomparable educational opportunity that brings the history text books to life in a way that only first hand experiences can. This adventure that takes our student back to the birth of our great nation and brings them face to face with the great sacrifices and perseverance of our forefathers.
---
National Junior Honor Society
The National Junior Honor Society is the nation's premier organization established to recognize outstanding middle level students. More than just an honor roll, NJHS serves to honor those students who have demonstrated excellence in the areas of scholarship, leadership, service, citizenship and character. These characteristics have been associated with membership in the organization since its beginning in 1929.
Today, it is estimated that more than one million students participate in official Honor Society activities. NHS and NJHS chapters are found in all 50 states, the District of Columbia, Puerto Rico, many U.S. territories, and Canada. Chapter membership not only recognizes students for their accomplishments, but challenges them to develop further through active involvement in school activities and community service.

---
About the TPS NJHS Chapter
More information coming soon . . .